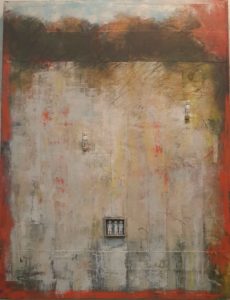 This winter I returned to my Vanishing Landscape Series. Taking old panels out of the basement, I reworked them or finished them depending on how developed they were.
I used to attach small pieces of rust and copper to my panels to add sculptural elements to the paintings. Cleaning out my studio closet, I came across these dolls I had bought years ago. Usually the pieces of metal I used were more abstract but the broken elements of the dolls put them in another realm.The Frozen Charlotte panel has small antique porcelain dolls attached and inserted into a small enclosure.
Inspiration
I have never before put figures in my work but I liked these suggestions of the people that lived on the open spaces, tamed the land and made them farms, built the barns and toiled so arduously in this rugged part of the country.
New England is not easy even in this modern day. And I think it resonates with the silhouette drawings I did of people while in Ireland 2 years ago.