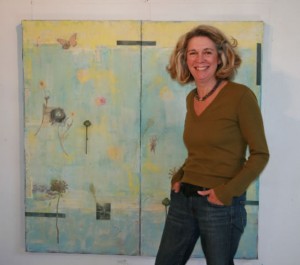 Jessie Pollock's richly textured landscape paintings and luminous photo-based images are romantic, sensuous and evocative. They suggest the passage of time and evoke nostalgia for times past. Intensely appealing for their tactile surfaces and radiant light, Pollock's paintings transcend the reality of a specific time or place. Though modern in their materials and sensibility, these works send us back to a way of life now vanishing.
In recent years, Pollock has found inspiration in landscapes important to her, places in New Hampshire where she lives, in Florida where she has spent winters, and in Italy's countryside, which she has visited. Vanishing Landscapes highlights a recent body of work that focuses on the region surrounding Mount Monadnock, the iconic peak not far from her studio and that has long attracted artists and writers since the nineteenth century and before.
Pollock's paintings surpass mere topographical rendering. She scumbles complex layers of dry acrylic pigment over patches of torn canvas and strips of copper nailed into a wooden panel. The layers create a depth that draws us into these forested scenes. Pollock melds the layers of paint -`hues of magenta, gray, and ochre – by spraying the surface with water to create drips that suggest a patina of time and age. In many of her compositions a brilliant reflective light radiates from behind a peak or glints off a pond or lake. It is a light that transcends the natural world and evokes a higher power.
Although Pollock paints scenes that are largely unpopulated, the presence of humans is often felt. Some landscapes she has organized around broad horizontal stripes that not only anchor the composition visually, but also suggest the clapboards of barns and farmhouses, or perhaps fence rails. In others she has incorporated bits of text. Collaged fragments from old family letters – their contents no longer decipherable – and equivocal phrases from old books engage our imagination. They read, "He is the axis of the star," or "He hides in pure transparency."
Originally a sculptor by training, Pollock incorporates intriguing objects on her painted surfaces: manmade hardware, like old pulleys and wires, as well as bleached bones, bird nests, eggs, shells and rocks. Like excavated artifacts and implements from past civilizations, they draw us deeper into the subject. Wire configurations, such as ladder-like forms, lead ambiguously skyward. Concentric circles emanate from peaks and are intersected by great diagonals; they suggest mystical alignments between ancient natural sites that may have marked pathways through ancient forests.
A completely new direction for Pollock is the arrangement of small photographic images that she has paired with fragments of antique clothing. The luminous images of parents and children are transferred from old family photos onto plexiglass, and Pollock has made them seem all the more precious by the application of silver and gold gilding. In the context of the old fabrics and landscape paintings, these intimate portraits assume an ancestral quality.
Jessie Pollock's career had been marked by transitions – first as a sculptor and then as a painter of portraits, still life and landscapes during the last fifteen years, and most recently, in this exhibition, the combination of several media in an installation piece. But throughout her career, we find an integrated vision that combines an exploration of themes of memory and remembrance, and a passionate interest in the sensuous possibilities of painting that never fail to engage us.
– Biography written by Susan Strickler, Director of the Currier Museum of Art in Manchester, NH.